Grace is currently studying for her apprenticeship with MidKent College Training Services in Gillingham. Could an apprenticeship be for you? Apply online now to secure your place for this September. We look forward to welcoming you soon!
Grace's manager Abi Olabiyi said "It has been a pleasure working with Grace. She shows a positive attitude to work and has demonstrated her willingness to learn new skills and techniques.
She always puts herself out there, going above and beyond my expectations as her line manager. She is very proactive in resolving queries from suppliers and staff. I'm amazed at how quickly she picked up new things, especially when I trained her remotely due to Covid.
I have had many good comments from staff regarding how professional and efficient Grace is."
Grace says "Working for MKCTS has been my best workplace experience to date. It is a welcoming and supportive environment to work in, with friendly and caring staff. Our team is MIS, finance and commercial, so rather than the sole focus of finance like many of the other apprentices in my class, we have a mix of roles and skills that blend together."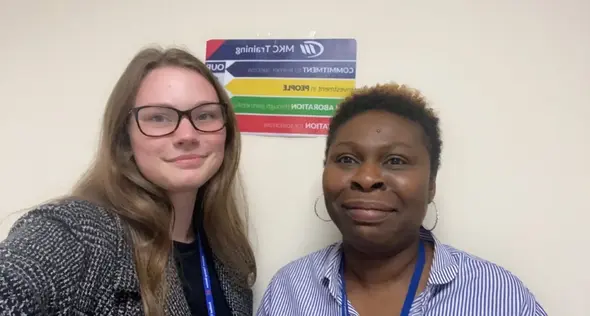 Commercial director Peter Cox comments "Grace has been a fantastic addition to our team. From the very beginning she has been keen to learn and it has been great to see her level of knowledge and confidence grow over time.
Grace provides a very effective, efficient and polite service to everyone she deals with on a day-to-day basis, and I regularly receive very positive feedback.
I have been particularly impressed with Grace's ability to adapt to different ways of working during Covid, her excellent academic results, work ethic, tenacity in problem solving and superb customer service approach. Grace has quickly become a highly valued part of the team."
Well done Grace!
Thinking about hiring an apprentice? Or interested in an Accounting apprenticeship? Find out more here.